Marple Beer Run runs from Marple Recreation Ground on the corner of Oldknow Road / Arkwright Road in Marple to the Fox Inn in the glorious countryside at Brookbottom.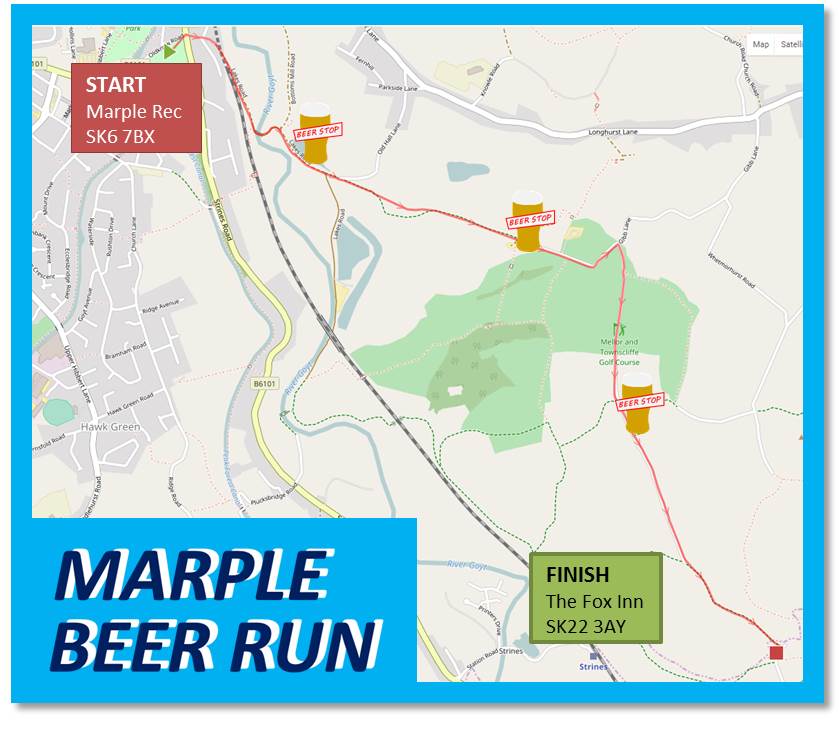 0-1km
The race starts on Marple Recreation Ground around the corner of Oldknow Road and Arkwright Road. Beware that there are no toilet facilities at the start-line. After carefully crossing the road, there's a steep downhill slope out of Marple past the Garden House and on to the Roman Lakes. The route continues along the flat road and before you know it, you're already at the first beer stop.
1-2km
This whole kilometre is uphill, up a slightly pebbly path (so take care). Finish the path and follow straight on up the road – the next beer stop is just around the corner! Aaaand relax.
2-3km
Follow the road as it bends steeply uphill past the first tee of Mellor and Townscliffe Golf Course, and then cuts across the Golf Course. You're now on the home straight, as you follow this undulating but generally flat path across to the Fox Inn – with a beer stop on the way.
3-4km
Follow the path as it meanders generally downhill towards the Fox Inn, where you'll be greeted with a rousing cheer from all your fans and presented with a beer token to spend at the bar. Well done on finishing the race, now relax and enjoy the live music and carnival atmosphere, in the July Sunshine with a beer in your hand. Bliss.
Elevation
The route starts with a relatively steep downhill for the first 1km, a steep uphill second km, a gradual uphill for the third km, and a gradual downhill for the fourth and final km