Introducing the Marple Beer Run!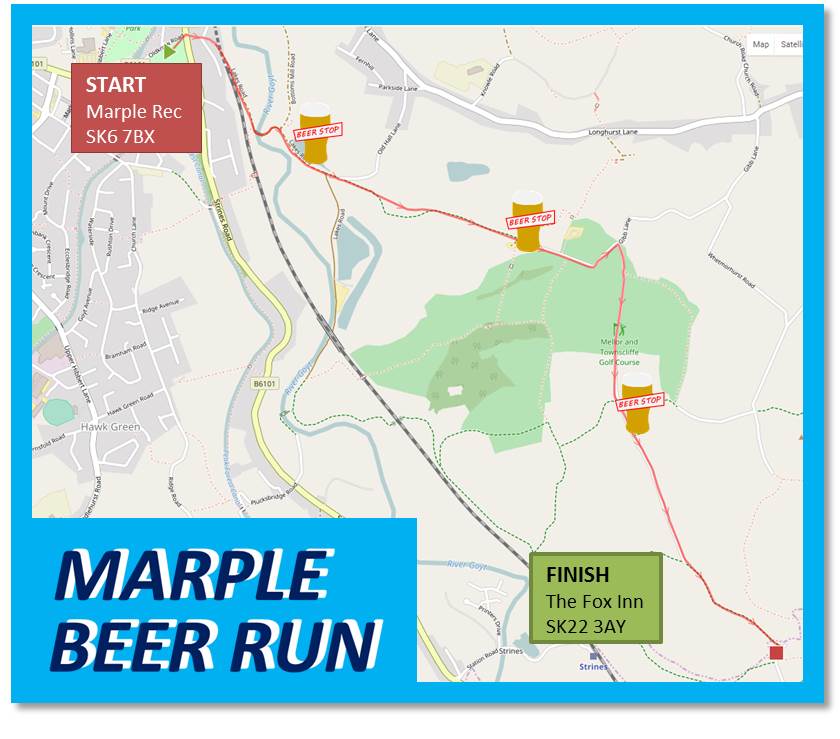 Saturday August 12th sees the first ever Marple Beer Run, with (hopefully) tens of people heading off from Marple Rec on Oldknow Road to the Fox Inn pub, a challenging 4km trail-run away.
After every kilometre along the way, there's an optional beer-stop, where participants can stop to drink a pint of delicious craft beer (supplied by a craft brewery set up by someone who grew up in Marple) – or a gin and tonic option is available. The finish line is the Fox Inn, where a nice cool beer is included in the entry fee, along with a buffet of food and hopefully some live music.
The challenge is to complete the 4km run and drink 3 pints along the way (and the winner will get a prize!), but it's mainly an excuse to have fun, get out into the countryside, do some exercise, and, of course, drink beer. Oh, and make money for charity – at least £5 per participant goes to local charities, but more if we get more people (check this website after the event to find out where it ends up).
So what are you waiting for? Sign up now and we'll see you on the start line!
Any Questions?
If you have any questions or comments, or want to get in touch for any reason what-so-ever then use this form and one of our team will get back to you ASAP!
(Have you tried looking at our FAQ?)